ABOUT KENNEL HVIRVELVINDEN
Hvirvelvinden is a responsible, passionate, and loving breeder of the magnificent African Lion Dog – the Rhodesian Ridgeback. As an educated breeder, I take great pride in improving my knowledge about evidence-based training and nutrition, and in consulting with leading experts with regards to all aspects of breeding and raising healthy individuals. This is to ensure that puppies from Hvirvelvinden get not only the best start in life but also the best prerequisites for a wonderful and long life as part of your family.
Meet Marvin & Storm from Hvirvelvinden's first litter between Nubia & Royce, see all the puppies under Litter A.
HISTORY & MOTIVATION
Kennel Hvirvelvinden is dedicated to the conservation and promotion of the Rhodesian Ridgeback breed. Hvirvelvinden was officially founded as a kennel under the auspices of the Danish Kennel Club in 2020, but was formed as an idea back in 2017.
The Ridgebacks have been part of the family for a decade and part of the plans since sometime in the 90s. This is a tale of an all-consuming and life-changing love and a dream that finally came true in the form of a kennel.
On this site you can read more about the kennel and our dogs.
CERTIFICATES & EDUCATION
Hvirvelvinden is an official DKK and FCI approved kennel name [documentation]. FCI is "Fédération Cynologique Internationale" also referred to as the World Canine Organisation. You can read more about FCI HERE.
Before you can even apply for a kennel name, you must have completed and passed the Danish Kennel Club's breeder education, after which you can call yourself a DKK-trained breeder [documentation].
You can read more about DKK (The Danish Kennel Club) HERE.
HVIRVELVINDEN'S BREEDING GOALS
CHARACTERISTICS
The goal is to breed gorgeous, elegant and powerful dogs with intelligence and character. Unsurpassed health and excellent temperament are a given goal, of course! There are no guarantees when it comes to breeding and matchmaking but being selective when it comes to health and performance goes a long way and each match is an opportunity to learn more.
With regards to temperament, we adhere to the official breed description of a dog that is dignified, aloof with strangers but loving with family members. Watchful but never aggressive. 
In short: a loving and curious dog with lots of juice and power combined with both grace and speed. Dogs from Hvirvelvinden should be vigilant but friendly and sensible. They should have healthy hunting instincts but be able to learn self-control with training and socialisation. They should be able to alternate effortlessly between being playful and active and being calm and gentle – depending on the situation.
RESPONSIBILITIES & ETHICS
Hvirvelvinden is DKK trained and tested and approved by FCI. This gives anyone interested in becoming a puppy owner or engaging with us otherwise a certain guarantee, since we adhere to the official rules and regulations. We also follow the Puppy Culture program to give the puppies the best start in life.
Apart from the fact that we only involve genetically healthy dogs in breeding, avoid inbreeding and are closely followed by veterinarians throughout the process, we also do not compromise on a very important component of breeding, namely "match-making". In short, it is the art of making sure that breeding animals match in both temperament and appearance – in addition to health. The same match-making goals extend to finding the best possible forever homes for the puppies.
Although Hvirvelvinden is a newly started kennel, we have 25 years of experience with breeding, just in the horse world. The farm also house our brood mares, which are part of the breeding programme for Engholm Icelandic Horses.
GROWING UP IN HVIRVELVINDEN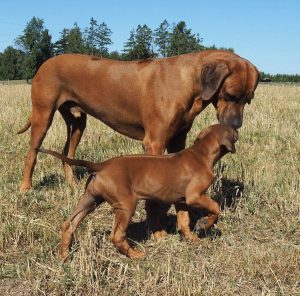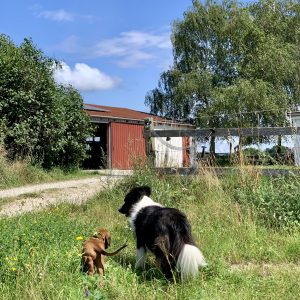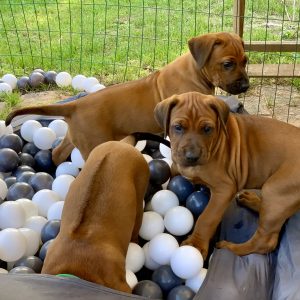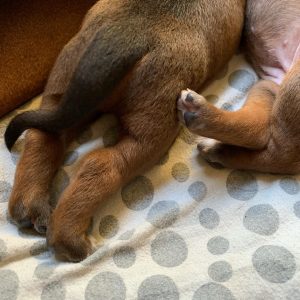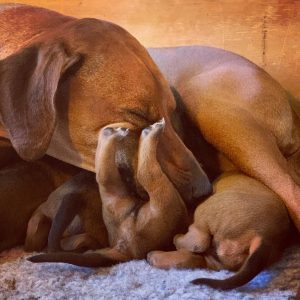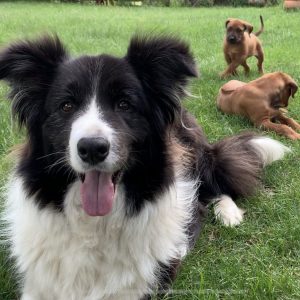 INTERESTED IN A WHIRLWIND OF YOUR OWN?
We are planning our next litter of Rhodesian Ridgeback puppies for Spring 2024!
WHO IS THE PERSON BEHIND HVIRVELVINDEN?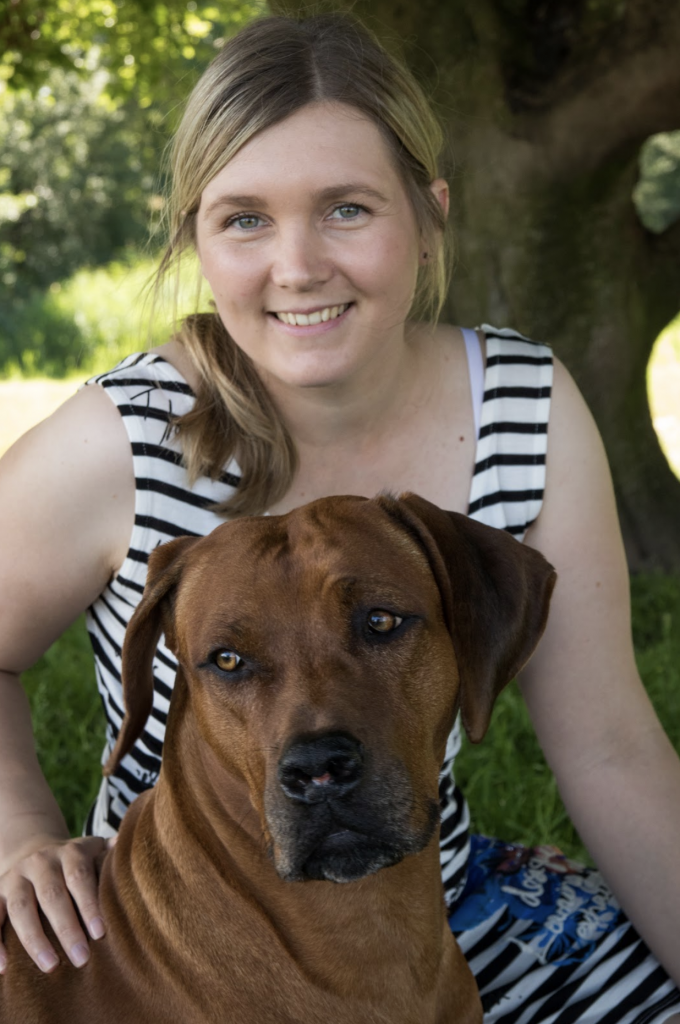 Welcome to Hvirvelvinden Rhodesian Ridgeback! My name is Dea and I am the founder of kennel Hvirvelvinden. I am 41 yrs old and have a degree in Multimedia design and a BA in Information Management. Over the years I have supplemented my official degrees with courses in Photography, SoMe management, canine nutrition and vet clinic management.
The reason why I am sitting here today in a good mood – despite the fact that I suffer from a chronic pain condition – had four strong paws and a heart of the purest gold. His name was Hannibal and he was my first Rhodesian Ridgeback. That's him sitting with me in the picture. He carried me through the most difficult time in my life after an open back surgery where I lost my mobility. Luckily I got it back with Hannibal's loving help and support.
Since then, Nubia has joined us, and what a party we have had! She is a little whirlwind, a firecracker, a comedian and a cornucopia of love and kisses. Now I cannot even imagine life without her, even if we have to miss Hannibal forever!
I wish for all interested parties that they, too, can have such a great friend that I had two of. Nubia is in full agreement that – when the time comes – she will pass on her unique qualities, appearance as well as glorious and fun temperament to the next generations. We look forward to welcoming you to our little family here in Hvirvelvinden!
Photo: fonnesbo.dk